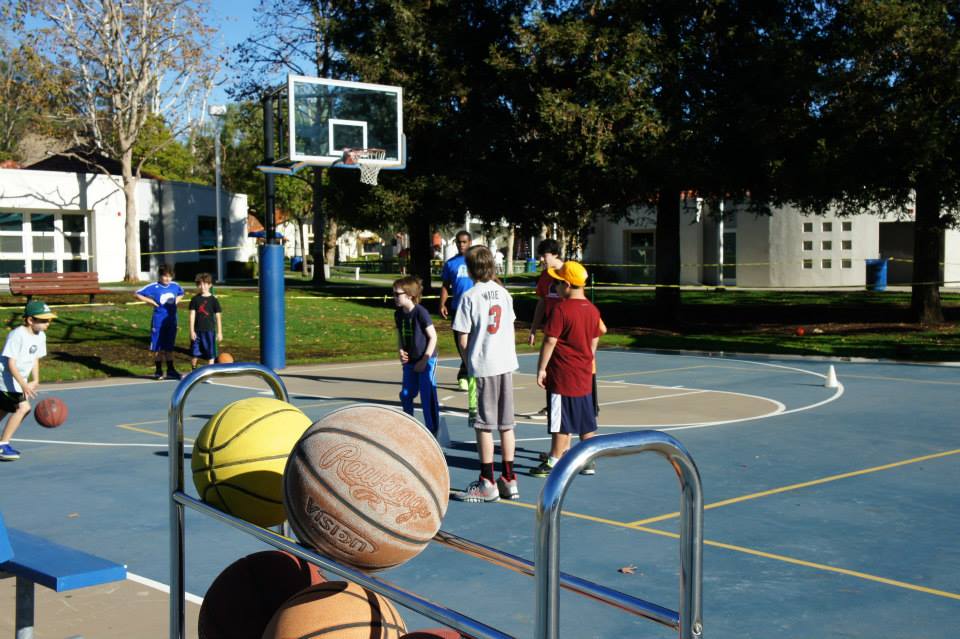 Join us for Winter Camp for a fun and active holiday break! Meet expert coaches who teach a variety of athletic skills! Additionally, we offer tournaments, arts and crafts, special events and theme days.
This year, we have
two
campsites available offering up to

FOUR

 programs! 
CAMP LOCATIONS
Pacific Palisades @
State

Beach


14755 Pacific Coast Highway, Santa Monica, CA 90402 
(Just north of Annenberg Beach House, across the street from Patrick's Roadhouse, in front of Tower 18). 
Bel Air /Mulholland @

AJU



15600 Mulholland Dr., Los Angeles, CA 90077 (Lot 4)
CAMP WEEKS & SCHEDULED PROGRAMS
December 20 – 24, 2021 @ BOTH SITES!


Traditional Sports Camp
 (
offered at
both sites)
Sinjin Smith Volleyball
 (
State
Beach
only)
Flag
Football
 (
State
Beach
only)
Basketball Camp
(

AJU

only)
December 27 – 31, 2021 @
State
Beach
(Pacific Palisades only!)
Traditional Sports Camp

Sinjin Smith Volleyball

Flag
Football
January 3 – 7, 2022 @ AJU
(Bel Air only!)
Traditional Sports Camp


Basketball Camp
CAMP HOURS
9:00am-3:00pm
8:30a-9:00a Early Morning Care and Drop Off (Optional)
3:00p-3:15p Pick Up
3:00p-3:30p Day Care
All campers picked up by 4:00.
CAMP RATES & TUITION
Campers:  $100 per day / $450 per week
Counselors-in-Training (CITs): $250 insurance/member fee
Traditional Camp Itinerary (sample) 
Monday

, December 20th: Welcome to camp! Dodger Day, Home Run Derby Contest, Baseball & Kickball Games, Arts & Crafts, Flag Games
Tuesday

, December 21st: World Cup Soccer, Ultimate Sports Day, Hockey & Basketball Tournaments
Wednesday

, Dec. 22nd: Basketball, 3-on-3 Tournaments, Free Throw Tournames, Knock Out, Jumpers and More!
Thursday

, December 23rd: Flag Games Galore! Capture The Flag, Breath Breaker, Monster Tag, and more!
Friday

, December 24th: Holiday Party! Dodgeball, Obstacle Course, Sports Games, and Cookie Decorating! 
Monday, December 27th – 31st and January 3-7: Call or email for full camp schedule and itinerary
Specialty Camp Itinerary: Basketball, Volleyball, Football Clinics (sample)
9:00 am – 9:15 am
Intro/Warm Up 
9:15 am – 10:00 am
Individual Drills
10:00 am – 10:15 am
Snack

/

Water
10:15 am – 11:00 am
Team/Competitive Games
11:00 am – 11:10 am
Water 
11:10 am – 12:00 pm
Scrimmage / Tournament
12:00 pm
Join Traditional Camp for lunch + remainder of the afternoon
CIT / Counselor-In Training Membership for High Schoolers
This program is designed for the 9th-11th grader who is looking for a summer experience that will develop leadership and communication skills, allow you to work as a team with your peers and make friends that will last a lifetime, all while being encouraged by an amazing group of coaches. Community Service Credit Available.
LIMITED AVAILABILITY and INTERVIEW & REFERENCE REQUIRED. Minimum 2 week Commitment. One-time member fee. Veteran Saken CITs from Summer Camp welcomed back and guaranteed a spot!
CAMP PHONE
310.273.2459  Office
310.266.7168  Campsite/Emergencies
trent@sakensportscamp.com
Mission Statement
Saken Sports Camp is built on the philosophy that all children should have a phenomenal camp experience regardless of their gender, age, or athletic ability. Saken Sports Camp focuses on building character and emphasizes playing with pride, playing with honor, and playing for fun. Our goal is to ensure that each camper has an unforgettable experience participating in various sports, games, and activities in a safe environment. When a camper leaves SSC, he or she will possess an enhanced value of sportsmanship, character, and self-confidence. Contact Carlye@SakenSportsCamp.com for any additional camp inquiries!
Play With Pride – Play With Honor – Play For Fun
*All campers enrolled in our Traditional Camp MUST be fully potty-trained.
**Any camper asked to leave camp for ANY reason, behavior or not, will NOT receive a tuition refund.